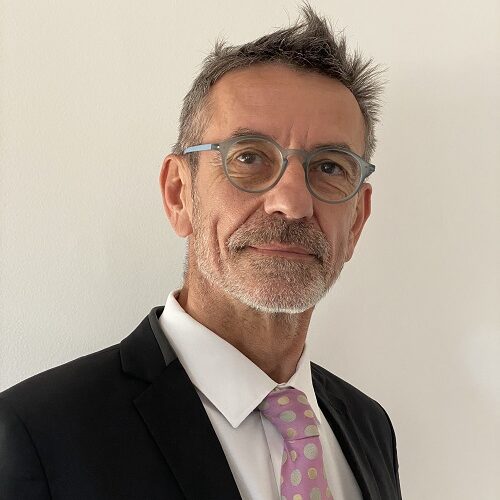 Olivier BLIN
Professor of pharmacology
« Neuropsychiatry – Rare disease »
Olivier Blin (MD, PhD, MBA), is Professor of Clinical Pharmacology at Aix-Marseille University. He is currently Head of the Clinical Pharmacology & Pharmacovigilance Department, Marseille University Hospital (Ap-Hm), member of UMR AMU-INSERM 1106. He is currently running OrphanDev, the French national expertise network on Rare Disease (FCRIN), and the Marseille Centre of Excellence for Neurodegenerative Disorders (COEN).
Olivier Blin is a Past member of the Board of the French Minister of Health (2004-05), Founding Vice-President of Eurobiomed Cluster, Past Visiting Professor at Imperial College London (2012-13) and Past Head of Unit Physician, CNS, GSK, Shanghai (2011-13).
Olivier Blin has been actively involved in public-private partnerships, initiating in France the Cengeps (90 million € contribution (2005-2015) of the pharmaceutical industry to academic clinical research); developing the collaboration between French and Indian on behalf of the French Minister of Industry (2010), coordinating the New Indigo FP7 AlzBioIndigo project; initiating and coordinating the IMI PharmaCog project (2010-15), a 32 M€ public private partnership aiming to "predict the cognitive properties of new drug candidates for Alzheimer's Disease"; contributing to the RHU Epinov project (2018-2022), a 18 M€ partnership aiming at improving epilepsy management using brain modeling technology (the Virtual Brain). He also is an elected member of Innovative Medicines Initiative Scientific Council, the world's biggest public-private partnership in the life sciences (€3.3 billion budget for the period 2014-2020).
Olivier Blin has been actively involved, as scientific advisor and/or principal investigator in the development of 15 drugs currently on the market, more than 20 successful Orphan Drug Designations, and is a regular consultant for Market Access in Cancer, CNS and Rare Diseases.